Buildings
Danvers strives to create more efficient energy systems and encourages resilient and high-performing buildings.
Buildings run on massive amounts of energy. Our lights, appliances, air conditioning systems, and heating systems all consume energy. In Danvers, buildings account for half of all energy used (transportation accounts for the other half).
This means that buildings also produce a significant amount of greenhouse gas (GHG) emissions, the primary type of pollution that causes climate change. In Danvers, 42% of greenhouse gas emissions come from buildings.
Source: KLA, Danvers Greenhouse Gas Inventory, 2022.
Heating Our Homes (and Our Planet)
In Danvers, most homes and businesses are heated with natural gas and a sizeable number of homes (27%) are heated with oil. Using fossil fuels to power buildings is less efficient, produces more emissions, and creates greater health and safety risks compared to powering buildings with electricity and renewable energy.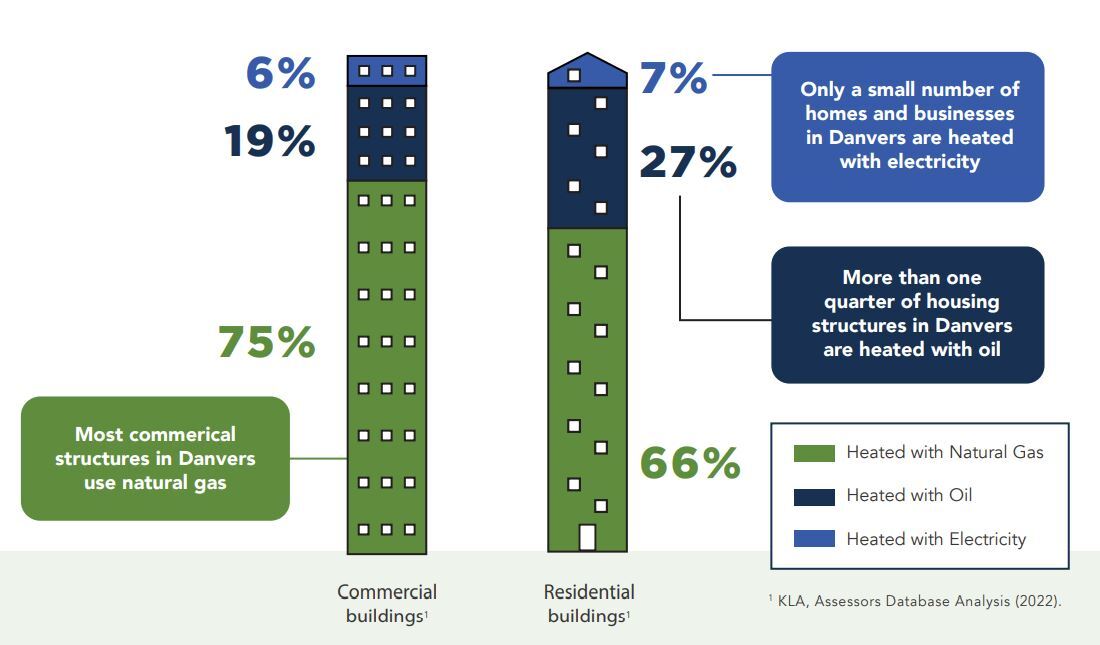 Going Electric and Saving Green
There are dozens of ways to make our homes and businesses more energy efficient and resilient to the impacts of climate change. In Danvers, we have a unique opportunity to upgrade the heating and cooling systems in our buildings to run on electricity. 70% of homes in Danvers are 50 years or older (Town of Danvers, Trend Report, 2020). This makes them strong candidates for installing proven efficient technologies like heat pumps. Danvers Electric also offers financial assistance for residents interested in taking advantage of energy savings.
Source: Danvers Electric, Energy New England Reports, 2020-2022.
Net Zero Energy Buildings
How we construct new buildings in the future will have a direct impact on our energy use, emissions, and our contribution to climate change. Designing net zero buildings, which generate enough clean, renewable energy onsite to equal or exceed the total amount of energy that the building consumes over the course of a year, is one way to minimize the impact of our built environment.
Did you know? Danvers is home to the first state-owned net zero energy building in Massachusetts! The Health Professions and Student Services Building at the Danvers Campus of North Shore Community College features onsite renewable energy and a green roof to reclaim rainwater. This innovative building was designed to save an estimated $142,000 in electricity costs per year (Mass.gov).
Save Energy (and Money!) at Home
Save money and reduce greenhouse gas emissions in Danvers by making your home or business more energy efficient.
---