Transportation and Land Use
Danvers strives empower our community to use low-carbon mobility choices and reduce car dependence with expanded transportation options and smart community planning.
The emissions from driving gas-powered cars make up 47% of our community's total greenhouse gas emissions. That means we have a big opportunity to change the way we get around and cut our emissions nearly in half. We know that Danvers' households drive more than our neighboring cities, and a lot car trips are made by residents going to work and school. We can curb our greenhouse gas emissions by promoting a green commute, like walking, biking, and carpooling to get where we need to go.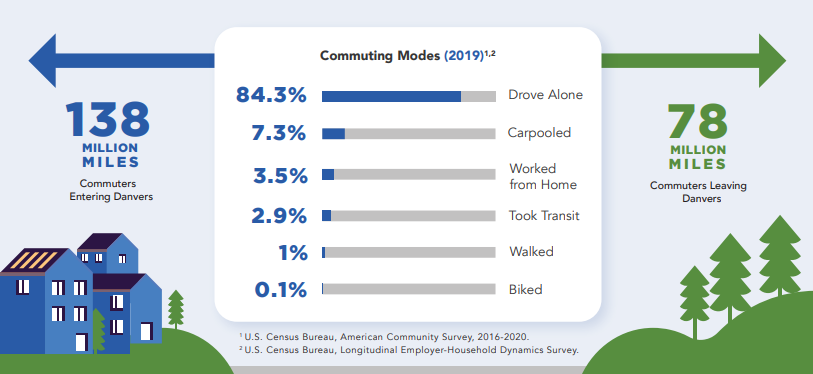 Unlike gas-powered cars, electric vehicles (EVs) produce no greenhouse gas emissions on the road. They also need less maintenance and help keep our air clean (plus, they're pretty fun to drive!). Driving electric is a big part of our future and we want to make owning an EVs accessible for everyone. That means creating more infrastructure for EVs, like adding to the 8 public charging stations we have right now.
Explore the other benefits of EVs.
Loading alternative fueling station locator...
Danvers hosts 4.3 miles of trails, including the Rail Trail. The Town can invest more in trails and projects to make biking and walking safe and convenient. Residents can support these investments simply by walking and biking on trails and streets to get where they need to go.
As we switch to EVs, we still need to work to promote active transportation. If 50% of close commute trips were made by walking or biking, we could avoid a lot of EV charging energy use - equivalent to powering 123 Danvers homes for a year!
Besides swapping gas cars for EVs, there is more the Town can do to reduce the need for driving in the first place. We can plan our community to make it easier for people to get where they need to go without getting in a car. And we're already taking the steps to do that! In 2021, Danvers updated the Town's zoning codes to encourage compact, walkable, and vibrant neighborhoods.
Get on Board with Green Transportation!
Take advantage of the active transportation methods, public transit, and EV opportunities Danvers has to offer.
---